Entering [Procedures]: Procedures are the physical things done to a dog to determine a diagnoses, not the diagnoses itself. For example, a procedure could be doing a lab test, x-ray, an exams, giving vaccines, medication, diet, etc. Procedures can be a one time thing or something that is done regularly such as a monthly heartworm or tick medication.
Specific procedures can also be entered through the [Vet] tab on the main menu (link will be added soon)
To enter procedures, using MyDogs or CoOp Dogs follow these steps…
Before entering data, you must first select the dog's file. You can do this through MyDogs, or alternatively if a Coop Dog, add through ABC, EBC, or OBC Coop Dogs.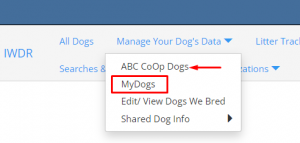 OR 

2.  Next, you must Search and select the dog you wish to enter data for. (link to be added soon)
3. Once dog is selected, Select the [Show Details] Icon

4. In the multiple tabs now shown for this dog, find [Procedures] and click on it.

Clicking on Procedures will allow adding or editing a wide range of veterinary and health care data. Any previous procedures entered will be shown here.
5. Click [Add new] to start adding a new procedure.
6. The next steps are to add a series of selections. There are MANY procedures to choose from. The required fields are marked with the red * asterixis.
6a. The Dog name will automatically show based on you already selected this in the previous instructions.
6b. Enter the Date of the procedure.
6c. Select the Category from the drop down menu. Based on what you choose here will alter the next field's options.
6d. Select [What was Done] from the drop down menu
As an example if you selected Medication as the [Category], the [What was Done] will show a long list of medications to choose from.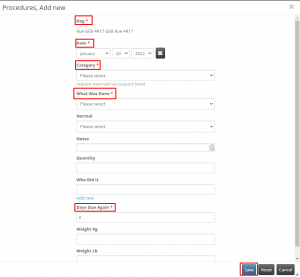 6e. Select if the procedure was normal or not (Yes or No) from the drop down menu
6f. Notes – Enter any additional notes. In this example using Medication, you could put the instructions for the medications – Give 2 tablets every 12 hours for 5 days, as an example.
6g. Quantity – most procedures would be 1, however medication for example, you might want to put the qty of pills dispensed.  Or if multiple X-rays taken, you could enter a qty of 3 for example.
6h. Who Did It – Enter the staff or volunteer or vet clinic/Vet that performed the procedure.
6i. Days Due Again – This is another required field, if no number is needed leave 0 as the default. Entering a number here will prompt a reminder to be generated. This can then help to generate a report to show upcoming reminders like who is due for vaccines for example. (Link to be added soon)
6j. Weight kg / Weight lbs – Enter a weight in either kgs or lbs to link it to a procedure. For example a weight taken at the vet clinic during a physical exam/vaccine appointment).
IWDR will generate the conversion for the opposite measurement. (Weight also has its own tab – Link to be added soon)
6k. After entering the data, Click [Save] at the bottom of the screen.