Juvenile Development – Puppy Raising Active
When a puppy is in training, there are many things that need to be tracked throughout their juvenile training.
To help keep all their details in order, IWDR created the following tabs under Juvenile Developmetn/Puppy Raising Active to help you achieve this. First select the dog you want to track, then click on Juvenile Development and select Puppy Raising Active from the drop down menu.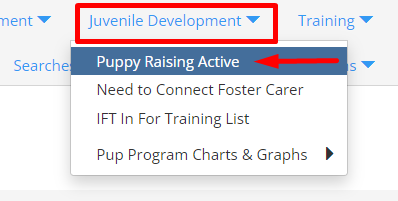 Select [Show Details] table icon and then the following tabs will be shown.
Assign Name Sponsor – Enter the sponsor's name, Start date and End date.
Assign Veterinarian – Enter the Veterinarian Hospital or Name, Start date and any comments.
Behavior Checklist – Enter the BCL as another option for entering a BCL
Communications – Enter date, activity (i.e. access granted, equipment request, attended orientation, schedule date for team training, and much more), program dog is in, notes, add a person, location, followups needed
Exam / SOAP – add any exams with vet, etc.
Diet – record any diet changes
Equipment – add equipment issued, date it was issued/returned, etc.
Estrus Juvenile – record estrus dates
Health Diagnoses – All data – record all health concerns/diagnoses
Health Diagnoses – All without normals – enter all heath concerns/diagnoses where there is not a normal result
Health History Report – save or print a history report
Incidents – record incidents with sitter reports, trainer reports, aggression incidents, etc.
Kennel Tasks – assign kennel tasks (i.e. bathing, ear cleaning, much more)
Milestones – record any milestons, dates reached, with who, any notes
Photos PDFs etc – attach any pdfs or photos related to the dog
Place W Foster Carer –
Relationships – relationships within IWDR
Reminders – track reminders type and by date
Vaccines – record procedures for vaccines
Weight – track weights
Work Logs – enter notes for work logs
Place W Staff Handler – track staff handler connections