Breed Stock Data is where you can view your breeding colony, both studs and broods.
It is also where you can do a test mating to look at COI.
1. To begin select [Estrus, Puppies, Breeding Colony], then select [Breed Stock Data] from the menu.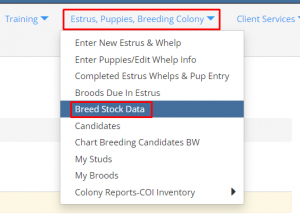 You can also use the quick link [Breeding Stock] on the home page.

2. In the column on the left, there will be a number of ways to search what you are looking for.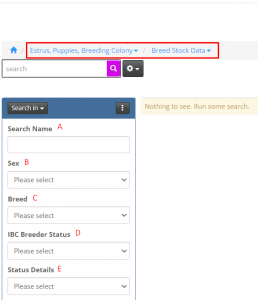 A. Search Name – If you know the dogs' name you are looking for, enter it here.
      B. Sex – Search by sex, male or female.
      C. Breed – Search by a specific breed.
      D. IBC Breeder Status – Search by the IBC Breeder Status.
      E. Status Details – Search by Status Details.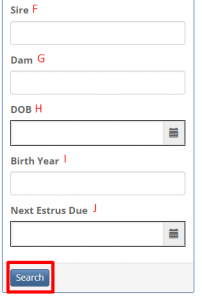 F. Sire – Search by the Sire (must be in the system).
      G. Dam – Search by the Dam (must be in the system).
      H. DOB – Search by Date of Birth.
      I. Birth Year – Search by Birth Year.
      J. Next Estrus Due – Search by the Next Estrus Due.
Click [Search] when finished entering any or all of the criteria you wish to search.
3. You can also scroll further down, and will be able to select a search by Status Details. – Select which status detail you want to search from the list.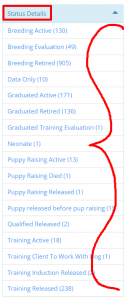 4. Or you can search by [IBC Breeder Relation]. Scroll further down the far left column and 'check' the box(s) of the relations you want to search and click [Apply].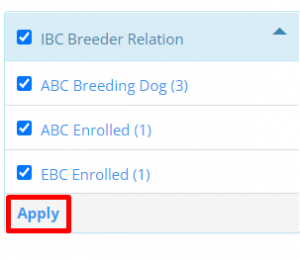 5. The results from your search will create a list of any dogs matching the criteria.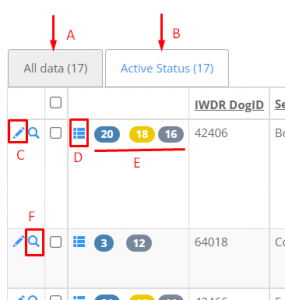 A/B.  The tabs along the top will vary depending on the criteria selected. You can select to view [All data] or by [Active Status] in this example.
C.  Edit – To edit the dogs' information select the [Edit] icon (pencil).
D. Show Details – To view more information on the dog, click the [Show Details] icon (table).
The tabs below will appear and you can then view the specific information related to that tab.
Behavior Checklist
Dam Litters
Estrus Dates
Health Diagnoses
IBCMy Dog Relationships
Private Notes
Sire Litters
Progeny Sire
Progeny Dam
Test mating
E. Bubbles – The bubbles to the right of the show details, are direct links to the [Show details] tabs of the bubble you chose. The number indicates how many entries there have been to date. To determine what the number in the bubble represents, hover over the bubble for a second or two until a pop up appears with the description of what it is. It m ay look something like this…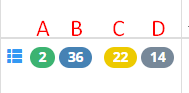 A – Estrus Dates
B – Health Diagnoses
C – Progeny Dam
D – Test Mating
F. View Record – The View record icon (or Magnifying glass) will give you an overview of all the information.