Early Socialization - Week 3 - 14-21 Days

TIP: Click the quick-links above to go directly to each section. You can also click the anchor icons at each section to return to the top of the page.

Goal:
Add variety in body handling, develop hearing skills & confidence in new environments

Environments:
Den, or brief 1-on-1 excursions outside den with a familiar handler. Should another room not be available a puppy-proofed area that is able to be sanitised between litters is also suitable.

Volunteer Type:
Experienced or staff only (note brood's comfort levels)
Rapid physical and behavioural development occurs this week. As pups become more mobile and extend their exploration of their den utilise this time to offer more variety and challenges for the pups. 
Body handling will offer more variety in items used. 
Massage continues to build up a positive human relationship as well as pups learning to cooperate with humans and not wiggle when being held or handled. 

Their sense of hearing is improving so this week gently build skills around hearing.  

Promote confidence and calm acceptance of unfamiliar environments 

Use a familiar handler if pup is taken briefly outside the den for 1 on 1 away from littermates.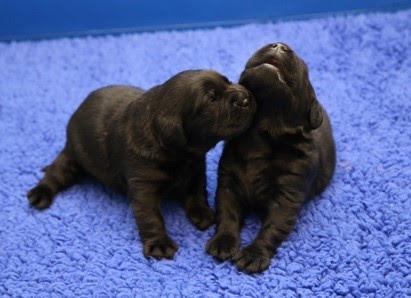 What Success Looks Like
Key Points
Why Teach These Skills?
What Success Looks Like
Addition of unfamiliar sounds, surfaces, textures accepted without issue.

Calm acceptance of massage and textures over body.

Pup is in the engaged (Green) zone most of the time, 
Pup's confidence will increase as it interacts and learns that its environment is constantly changing 
Alternatively, pup is in the conflicted (yellow) zone briefly then moves back into the green zone once it has resolved the internal conflict. 
Pup displays 1 or 2 stress signs (yawning, whining) it quickly resolves inner conflict without escalating to additional stress signals; Second exposure pups are more confident with a reduced number of stress signals. Look for an improvement in the pup's confidence with each exposure to the stimuli. If the pup has displayed 2 or 3 stress signals, set pup up for success and aim for less next time by building the pup's confidence.
Tip: Review the material on Handling for more information on these zones and how to measure the puppy's response to stimuli.
Key Points
Why Teach These Skills?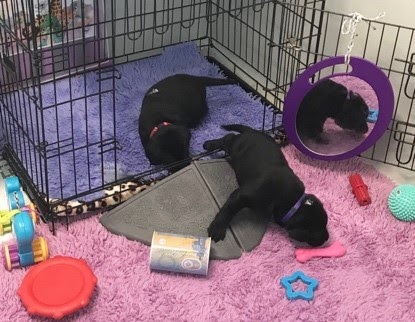 Passive Environmental Enrichment

Passive exposure continues by exposing pups to a variety of surfaces, sounds, movement, objects in their crate and den environment.
Acceptance of change and difference can be achieved by placing 1 random object into the nest each day that the puppies have not been exposed to before (backpack, hat, purse, statue like objects). Observe and record each pup's reaction to novel object.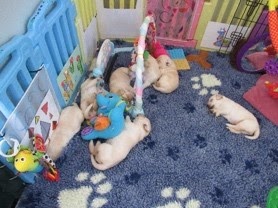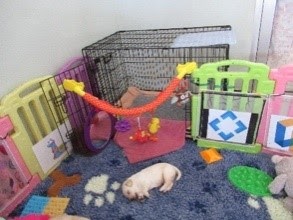 The development of purposeful play will start this week (pups become aware of Brood and litter mates this week so will see more puppy like behaviour) with littermates exploring novel objects, sound objects, motion objects, and surfaces. 
Start with soft gentle sounds, like baby rattle, as ears are not fully opened. Add more variety of items so pups will continue to develop positive experiences around body handling, and puppies can build positive association with new objects and sounds.  Every interaction with the puppies continues the building of handler engagement.