Early Socialization - Week 8 - 50-57 Days

TIP: Click the quick-links above to go directly to each section. You can also click the anchor icons at each section to return to the top of the page.

Goal:
Allow puppies enough downtime to recover and recuperate between appointments during this busy week – vet visits, assessments and leaving to live with puppy raisers are big activities in themselves.

Environments:
Passive environmental enrichment- Litter's den, play area, or outdoor area with precautions in place –

click to view our Biosecurity section. Interactive activities can be done in a separate clean room, litter's play area.

Volunteer Type:
Make sure the "big event" interactions this week are done by experienced volunteer handlers or staff who are actively building positive experiences for the puppies during this time. – 
This week is likely to be a big week for puppies, during this week puppies may have their first vaccines, behavioral assessments, and leave to begin their journeys with their puppy raisers. While it is still important to provide puppies with appropriate experiences this week, it is also equally important that puppies also time to rest before big events such as the ones mentioned previously. Interactive activities should be skipped on these days.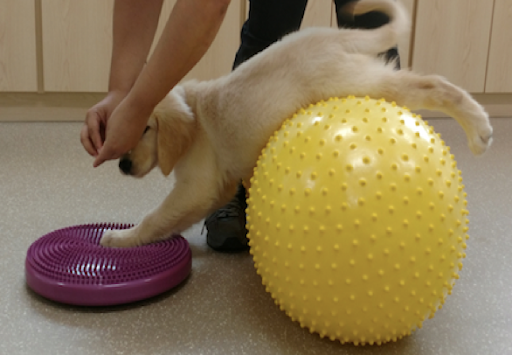 What Success Looks Like
PUP readily shifts between the ENGAGED (GREEN) ZONE and THE CONFLICTED (YELLOW ZONE) when learning or exposed to something new.
When alone or in groups in a familiar situation pup readily acclimates in a new environment and/or around novel objects, noise typical of a puppy raiser's busy home.
Pups respond readily to being called, accept being handled for an exam or cradled on their back in your lap.
Pups follows the handler off and on leash in a low distraction situation
Pups accept brief body handling in the close position
Pups are adept at climbing on and around items that are no higher than one half of their leg length.
Pups are socially polite around people. They do not bite hands, shoes or ankles.
Pups accept being in a crate alone for up to 10 minutes.
Key Points
Work more one on one with puppies to deepen the relationship with people and send pups to their new raisers with a foundation of the basic skills of sit, follow-me, accepting a crate, body handling, walking on a loose leash.

Identify pups that have special needs. Work on what you can and seek puppy raisers who can help these pups

Continue providing a variety of passive exposure to objects, noise, climbing and new situations

Monitor bullying and provide escape places such as tunnels, crates, etc for pups
Note on Interactive Activities
During interactive activities, we continue to promote the puppy handler bond. Any time the pup choses to return its focus onto the handler reward this choice immediately with a smile, praise, and stroking.  Giving food any time the pup connects to you will create pups only interested in food, so use it only as needed.
Mix up the rewards so puppy has variety and keeps interested and wanting to bond and work with us. Remember to use a reward that the puppy sees as reinforcing for it. Some Golden Retrievers are not as food oriented as say a Labrador Retriever. Should food not be a strong motivator try a soft fluffy toy or hard rubber toy. The pups focus should be on the handler so lots of rewards for good choices. The frequency of food rewards can become intermittent then phased out when the pup is older. 
Remember that YOU are the reward for the pups and deepening your relationship and bond is enhanced by touch and interactions that are rewarding to the pup. Occasionally food is needed but think of it as icing on the cake. You need to build the foundation of your relationship first. This week is a great time for short periods of one on one time with each pup to develop skills needed when pups leave for their puppy raisers.
Provide both passive and active (interactive activities) to expose puppies to new objects, sounds, surfaces and movement in the environments and to enable us to get feedback about how the pup responds. The information we collect helps give us to continue to build up a better picture of the puppy's personality and how they cope with changes in environment, how inquisitive and confident they are and overall whether the puppy would be a good candidate as a guide or service dog.
Continue to promote remaining calm relaxed during body handling and massage as the building up of positive human relationships continues this week.
Items needed for Den this week – Variety is important to keep pups inquisitive and accepting of change
Toilet Box (To be used if needed by pups in between toilet breaks)
Ramp to concrete
Sound
Visuals
Surfaces
Movement 
Random Object 
Hanging Toys 
Activity Box
Hard Chew Toys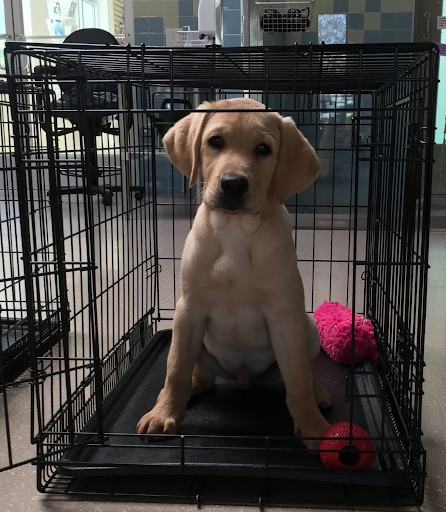 Passive Environmental Enrichment
Passive exposure continues by exposing pups to a variety of surfaces, sounds, movement, objects in their crate and den environment.
Acceptance of change and difference can be achieved by placing 1 random object into the nest each day that the puppies have not been exposed to before (backpack, hat, purse, statue like objects). Observe and record each pup's reaction to novel object.
Examples of appropriate items for passive environmental enrichment at this age can be seen in the gallery.
Purposeful play with littermates exploring novel objects, sound objects, motion objects, and surfaces 

Puppies will develop positive experiences with body handling 

Puppies build positive associations with new objects and sounds  

Puppies build handler engagement
experiences around body handling, and puppies can build positive association with new objects and sounds.  Every interaction with the puppies continues the building of handler engagement.