Early Socialization - Delayed Placements

TIP: Click the quick-links above to go directly to each section. You can also click the anchor icons at each section to return to the top of the page.

Goal:
Provide variety, new environments, and skill development for pups whose placements with raisers have been delayed.

Environments:
Interactive activities can be done inside or outside, within your facility or externally (keeping biosecurity concerns in mind for under-vaccinated puppies –  

click to view our Biosecurity section.)

Volunteer Type:
Volunteers can be very helpful for socialization of older puppies, but make sure they are trained in body language and handling.

Biosecurity Warning!
 DISCLAIMER
This is a guideline only and not envisaged to be implemented without considering the biosecurity and infection control of your facility.
Always seek veterinary advice regarding suitable biosecurity methods that are acceptable for each facility so that the risk associated versus the benefit can be addressed before implementing socialization.
Some facilities will house and socialize puppies within one building and puppies are only introduced to real life environments when they go to puppy raisers/carers. Alternatively, other facilities have a different structural environment that allows puppies outside of the breeding/kennel area and engage in both onsite and offsite outings.
Best Practice for any system employed must be guided by a veterinarian.
After their 8 week vaccinations, puppies are able to begin exploring the big wide world. Many organisations aim to have their puppies in raiser/carer homes by this age but this is not always possible. The following content is aimed to provide enriching and educational activities for puppies whose placements have been delayed beyond the standard 8-10 weeks.
Depending on your available resources, you can pick activities most relevant to your organisation's needs and abilities. Make sure to provide the puppies with a regular routine. Remember, the aim is to prepare the pup for a life of ongoing learning and working, so all activities must be fun and enjoyable.
It is important that you proceed to more advanced parts of the skills only when the pup is ready, as advancing too quickly can affect their outlook on work and learning, as well as inadvertently teaching them the wrong way to do things.
Slowly introduce more key skills and build your pups self control.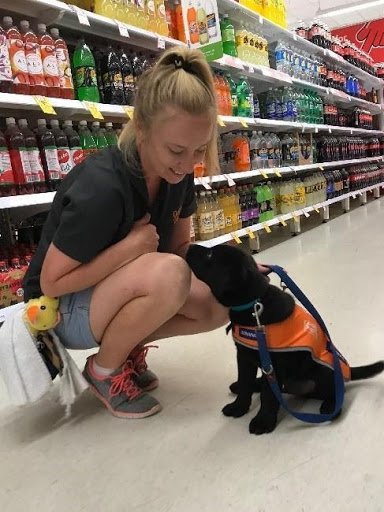 What Success Looks Like
Key Points
Skill Building
How to Teach New Skills
What Success Looks Like
PUP IS IN THE ENGAGED (GREEN) ZONE most of the time OR PUP IS IN THE CONFLICTED (YELLOW ZONE) briefly then moves back into the green zone once it has resolved the internal conflict:
Pups will happily explore the new environment
Pups will play with littermates then fall asleep
Pups will display no stress signals  or  if 1 or 2 stress signs (yawning, whinging) but pup quickly resolves inner conflict without escalating to additional stress signals.
Second exposure pups are accepting of longer durations
Addition of familiar surfaces, massage and textures accepted without issue.
KEY
SOCIALISATION TRACKER
1 Engaged
Actively engages with handler/environment without showing any signs of stress. Consider increasing the 3D's to allow puppy the opportunity to reach the yellow (learning) zone.

2 MOSTLY

Engaged
Actively engages with handler/environment but may shows signs of mild stress. Pups may leave the green zone and enter the yellow zone. The pup will often show this by lip licking or sniffing in response to an exciting or stressful situation the brain will release a chemical into the body, creating a build up of emotion energy which reduces their ability to learn. Your role is to give the pup time to release the emotional energy
3 Learning Opportunity /Sorting out / Processing/Uncertain
Should the pup enter the yellow zone it will need to be given time to release the emotional energy. You can assist the pup by adjusting the distance, distraction, and duration and this will usually result in the pup returning to the green zone. The ability of a pup to return to the green zone by itself helps develop self-modulation, which is an important attribute in guide or working dogs.Requires some encouragement to engage with handler/environment/ and/or shows mild stress signals
4 Learning Opportunity /Sorting out /  Processing /Uncertain 
Requires substantial encouragement to engage with handler/environment and/or shows moderate stress signals. Warning: Puppy is quickly reaching a state in which it will be unable to learn positively. During this time, the puppy may show reactions to objects, stimuli etc that it previously appeared to be comfortable with.
5 Overwhelmed
Uncomfortable. Unable to engage with handler/environment and/or shows severe stress signals.Pups in the red zone (shown by jerky movements, trying to escape, increased scavenging or vocalisation) are not able to resolve the stress on their own. Your role is to help the pup by adjusting the 3 D's. The aim is ideally for the pup not to enter the Red Zone because you have given him the opportunity to release his emotional energy while still in the yellow or orange zones.
Key Points
Skill Building
How to Teach New Skills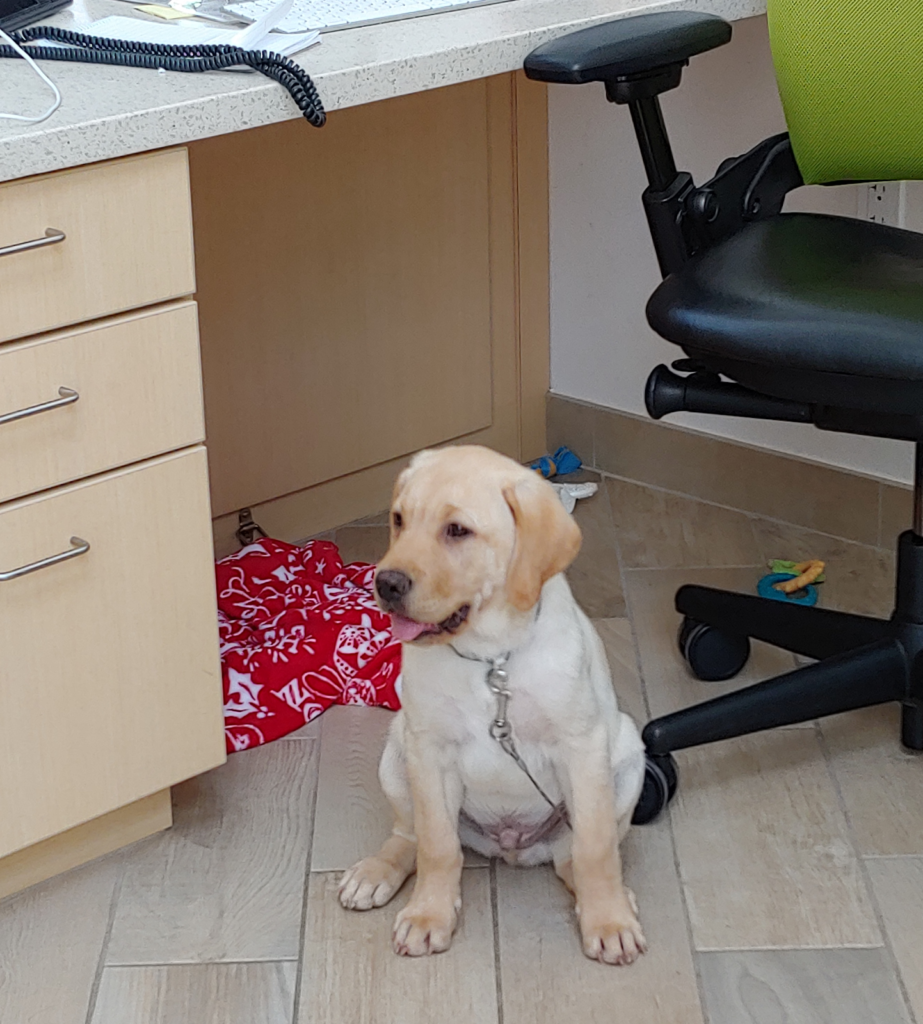 Passive Environmental Enrichment
You should continue to ensure the puppies have a stimulating and varied environment through the passive exposure to as many sounds, novel objects, motion items and surfaces as you can. 
Purposeful play with littermates exploring novel objects, sound objects, motion objects, and surfaces 

Puppies will develop positive experiences with body handling 

Puppies build positive associations with new objects and sounds  

Puppies build handler engagement
experiences around body handling, and puppies can build positive association with new objects and sounds.  Every interaction with the puppies continues the building of handler engagement.