Early Socialization - Week 6 - 35-42 Days

TIP: Click the quick-links above to go directly to each section. You can also click the anchor icons at each section to return to the top of the page.

Goal:
Carefully monitor the puppies for any fear responses. Build up positive experience around any environmental enrichment activities as well as during any interactive activities.

Environments:
Puppies' normal play area that they are already familiar with. Make sure to consider any Biosecurity risks.

Volunteer Type:
Active, with an active understanding of puppy body language and reinforcing positive behaviours
Massive brain development continues this week.  Milestones include near adult vision and an innate inquisitive about their environment. The motor skills are more advanced so the environment can include larger objects for pups to climb over, go through or stand on. 
Enhanced proprioception ability enables pups to enjoy more advanced motion equipment. This is the time to offer a more enriched environment full of different visual, sound, movement, surfaces as well as a large variety of people of all ages. During this age group there is a huge potential to influence just how sound and confident the puppy will become as an adult.
This week we continue to look for signs that the puppy is going through a fear period where they start to development a fearfulness of their environment. Even a familiar environment can produce a reaction at this time.
German Shepherds are a more reactive breed and can enter this critical fear period as early as 5 weeks whereas Labrador Retrievers are a less reactive breed and may not enter this stage until 10 weeks of age. It is a gradual process so be mindful about this development stage and treat each litter as an individual group and not according to a set standard.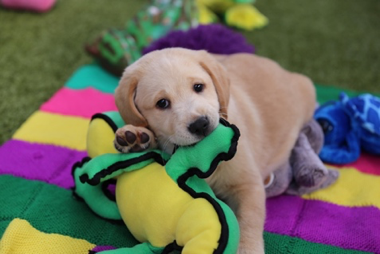 What Success Looks Like
Key Points
Note on Interactive Activities
What Success Looks Like
PUP IS IN THE ENGAGED (GREEN) ZONE most of the time OR PUP IS IN THE CONFLICTED (YELLOW ZONE) briefly then moves back into the green zone once it has resolved the internal conflict:
Pups will happily explore the new environment 

Pups will play with littermates then fall asleep 

Pups will display no stress signals  or  if 1 or 2 stress signs (yawning, whinging) but pup quickly resolves inner conflict without escalating to additional stress signals. 

Second exposure pups are accepting of longer durations 

Addition of familiar surfaces, massage and textures accepted without issue.
Key Points
Note on Interactive Activities
Passive Environmental Enrichment

Passive exposure continues by exposing pups to a variety of surfaces, sounds, movement, objects in their crate and den environment.
Acceptance of change and difference can be achieved by placing 1 random object into the nest each day that the puppies have not been exposed to before (backpack, hat, purse, statue like objects). Observe and record each pup's reaction to novel object.
Purposeful play with littermates exploring novel objects, sound objects, motion objects, and surfaces 

Puppies will develop positive experiences with body handling 

Puppies build positive associations with new objects and sounds  

Puppies build handler engagement
Experiences around body handling, and puppies can build positive association with new objects and sounds.  Every interaction with the puppies continues the building of handler engagement.