Dr Caroline Moeser B.V.Sc.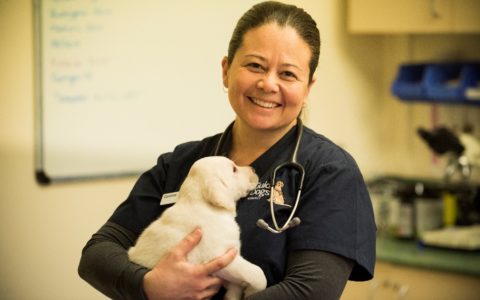 Dr Caroline Moeser B.V.Sc. Caroline graduated from the University of Sydney with a Bachelor of Veterinary Science in 1994. She enjoyed working in small animal practice in Sydney for 13 years, with interests in orthopaedic surgery and dermatology. Caroline commenced working in 2008 as the Veterinarian at Guide Dogs NSW/ACT.
In 2016, she won the Derek Freeman scholarship through the International Guide Dog Federation. This scholarship enabled her to visit the larger Guide Dog breeding centres in the United States to investigate and acquire knowledge in their methods around animal welfare, husbandry and their breeding programs.
Caroline became the Veterinary and Breeding Services Manager for Guide Dogs NSW/ACT in 2017. Her current role enables her to maintain her veterinary knowledge and apply this knowledge to the breeding program.
Caroline co-authored a paper on transitional lumbosacral vertebrae that was published in the Australian Veterinary Journal in January 2017. Her current interests are genetics of canine behavioural and medical conditions, and animal husbandry. She works closely with geneticists and breeding managers both locally and internationally with the collaborative goal of reducing heritable disease and undesirable behavioural traits in our canine colonies.