> 4.4.1 – Details for Adding New Dogs in AllDogs
Only add if you are positive you have the correct data
It is important to have already entered the dam and sire details prior to entering any litter information. If there are no dam and sire details, then accurate in-breeding co-efficiencies cannot be produced. The dam and sire cannot be entered manually in this screen.
First check that the dog has not already been entered. THIS IS EXTREMELY IMPORTANT TO PREVENT DUPLICATE DATA. On home screen click on "All Dogs" in top left corner. There will be a search field to the top left. In this field type in part of the name. A pop up box will appear with all dogs on the database that include that combination of letters in the name. If this search provides a large number of dogs, then you can narrow the search by entering the sex or other known data. If the dog is not already entered, then you can add a new dog.
Before entering a new dog, ensure that you have all the data to identify the dog.
Click on "Add new" located just below "All Dogs" in the top left corner of the screen

A pop-up page called "All Dogs, Add New Record" will appear.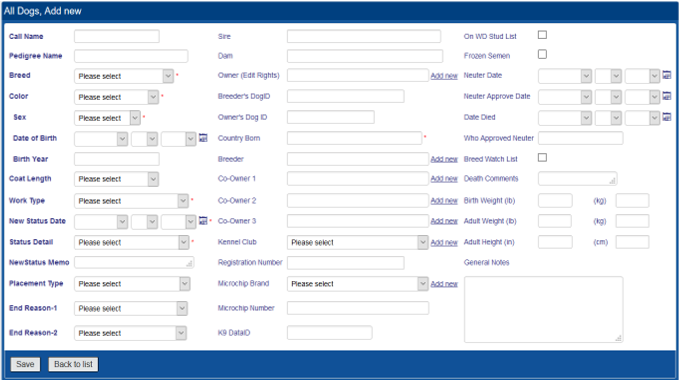 The minimum data required is
Call name: place dog's name here and an abbreviation for the school owning the dog. This abbreviation should be consistent over the database. For eg GDNSW is designated for Guide Dogs NSW/ACT and should be used after the dog name on all dogs owned by Guide Dogs NSW/ACT
DOB: add date of birth
Sex: select male or female
Breed: select breed of dog – request a new breed or cross breed to be entered through support@iwdr.org
Work Type: This is the work type that the dog was originally trained for or another working career that the dog is ultimately performing if the dog is released (rejected for the original purpose)
Status Change Date: enter the date that the status was changed
Status: select from the options available
New Status Memo: comments about this status change. Note that the comments will be stored in the status history child table after clicking save. The field in the dog record will be cleared.
School ID: place the unique identifier code designated for the dog by your school
Country Born: place the unique identifier code designated for the dog by your school
Owner (edit rights): Owner of the dog is the organization that manages that dog's data. It is not the guide/service dog user or adopter of the dog. You can put those people in the database as relationships. Note- if the owner is not known, store the breeder as the owner
Data that is not required, but is still important.
Sire: click on "Select" to the right of the fill-in box. A pop-up will appear. Under "Search for" fill in the box with the sire's name to be searched. Then click on the magnifying glass. A list of possible matches will appear. Click on the correct Sire name.
Dam: click on "Select" to the right of the fill-in box. A pop-up will appear. Under "Search for" fill in the box with the dam's name to be searched. Then click on the magnifying glass. A list of possible matches will appear. Click on the correct Dam name
Microchip: enter without using spaces, dashes, *, / etc. Add a new brand if the brand you use is not there. There is an option for unknown but please do your best to enter the type of microchip
Brand of Microchip: select the microchip from the drop down box. If the brand is not there, click on the hyperlink Add New to enter the brand and go to that microchip company's website to enter which country they are from and their website
Kennel Registration: enter without using spaces, dashes, *, / etc. Enter only the number. Do not enter the initials for the kennel club, month and year of birth etc
Kennel Club: enter the kennel club name from the drop down box. If the name is not there, click on the hyperlink Add New to enter the kennel club and go to their website to enter which country they are from and their website
Breeders DogID (not in page yet): ask the breeder for their unique identifier for this dog. Often it is the "school ID" or "Tattoo" or the database dogID. Leave blank if the breeder does not have a unique identifier
Owners DogID: enter your organization's unique identifier for the dog. If you don't have one, then use the IWDR dogID. This is visible in the upper left of the dog edit page once you save the record

Explanation of Other Fields
Coat Length: drop down box for options. Note: for Labrador Retrievers- this will automatically be short when the record is saved
Placement Type: type of adopter dog placed with when no longer active in your program
End Reason 1: drop down to indicate primary reason dog ended active status
End Reason 2: drop down to indicate secondary reason dog ended active status
Co-Owner 1: additional current owner of the dog- this person does not have editing rights
Co-Owner 2: additional current owner of the dog- this person does not have editing rights
Co-Owner 3: additional current owner of the dog- this person does not have editing rights
K9 Data ID: dogID from the K9Data.com database. Number is located in the web-browser
On Working Dog Stud List: dog's owner is offering this dog as a stud for other organizations
Breed Watch List: dog is being considered as a breeder
Neuter Date: date dog was de-sexed
Neuter Approve Date: date dog was approved for de-sexing
Who Approved Neuter: type the name of the person who approved the dog could be de-sexed
Date Died: date dog died
Death Comment: comments on cause of death or other details. REMEMBER to also enter diagnosis
Birth Weight (lbs): birth weight in pounds. Note: this is not ounces but rather tenths of a pound as scales do display. If this value is entered, the kilogram weight will be calculated
Birth Weight (kgs): birth weight in kilograms. If this value is entered, pounds will be calculated
Adult Weight (lb & kg): dog's ideal adult weight. It can be entered as kg or pounds and the opposite value will be calculated. To enter weights, use the child table for weights
Adult Height (in & cm): dog's adult height as measured from the top of the withers to the floor. The opposite value will be calculated
General Notes: these notes are visible to all users. Use private notes (details child table tab) for notes only users in your group can see on any dog