> 2.4.4 – Working in Details Tabs
Click the tree-like icon to display the details (child) tabs. Clicking the tree-like icon again will hide the details tabs. These tabs contain details about the dog organized into types of data. Click on the tab to access the list of existing records and the buttons to add, edit or delete records.
Clicking on More Microchips allows adding or editing more microchips for dogs that have more than one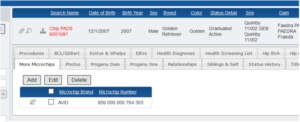 Clicking on Procedures allow adding or editing a wide range of veterinary and health care data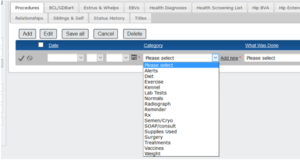 Select the Procedure Category and a list of Procedures displays in the field labeled What Was Done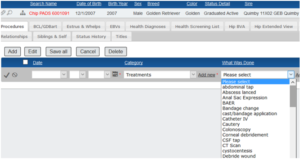 After entering the data, save the record by clicking on the check on the left of the screen
Records can be edited by clicking on the pencil icon

Multiple records can be opened for editing by clicking the checkbox below the Edit button then clicking the Edit button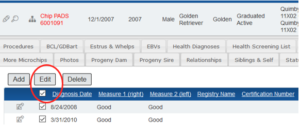 Click either the check to the save records one at a time or Save All to save all at once. If you do not want to edit a record, click the circle with the line through it to close the record.