> 2.4.1 – Search ~ function is the same in AllDogs & MyDogs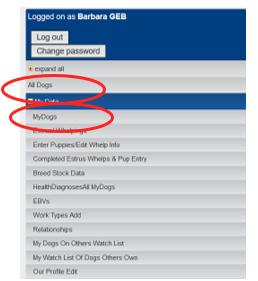 a. Search for a dog using the search panel-
Type in the dog's name in Search Name. It will only find names that start with the word you type in. A list of matches appears in the list. Click on the correct dog.
If you can't determine which is the correct dog then add more search criteria such as dog status, breed, etc. You can add fields to the search or click More to go to the advanced search.

b. Search for a dog using the All Fields search
Type any part of the call name, registered name or school ID (Tattoo) and a list of matches will appear.

If you are not sure which dog, click the magnifying glass and all dogs with the name you entered (Biscuit in this case) will be displayed on the list page to the right of the search panel. Each dog has some basic data displayed in the row for that dog. To the left of the dog's name are icons for Edit, View and Details (also called child tables).

c. Search for dogs using Advanced Search
Click on MORE…, select Advanced search- A pop up appears where you can select on a wide range of fields and a range of criteria. Click Search at the bottom and records matching your criteria will be displayed. If you Criteria All Conditions (top center) only records matching all of the criteria will be displayed. If you select Any Conditions, records matching any of the criteria will be displayed

d. Using Filters
Some pages have filters under the search panel. Select records you want using the search panel. Click Search

If you want, you can modify the dogs on from that list obtained from the search by using multiple criteria from the search panel. You can select criteria from multiple categories. Note, if you use the filter panel before there are results, nothing will show up

Check each category you would like then click apply to further reduce the list

Click clear

to remove the filter. The list will automatically be updated when you click clear. If there are multiple categories that have been filtered then click clear for all you want to be cleared.
e. Exporting Records
Some pages have the option to export records. To determine if a page offers this option, click the MORE button. Once you have the list of records, either select them all or the ones you want to export by clicking on the checkbox to the far left of each dog's record on the list page

Click more button above the search panel and click export results

On the export window that pops up, choose the export format and if you want all records or current page only. Click Export button on the bottom. The export will be created in your downloads folder. Note that the name of the export is the name of the list page. You will need to rename the export once it has been downloaded

Please provide input on the fields and their order. We can add additional fields if desired. The fields are more than what appears on the list page.Another example- exporting records from MyDogs

f. Printing Data
Some pages such as estrus details have the Printer Friendly option. The process requires multiple steps but it does create a nice page than can be printed or saved as a PDF and emailed. Click the hyperlink- proceed to Estrus Mating Details hyperlink

Click the smaller printer icon to the far right (circled in green)

A new window will open with the printable page. Click on your browser's print icon. In the example below (Firefox) the icon is the 3 vertical lines on the far right. A drop down appears where you can click print. To return to the estrus page, click the hyperlink Back to Estrus on the upper left of the page (circled in green)