Manage Our Lists, Litter Care Items add/edit
Users can create customized litter care data entry batches. These batch entries are a group of procedures that every puppy in a litter receive at the same time.
Any procedures such as exams, vaccines, deworming, microchip implant, CAER exams, etc. and at any age point can be processed as a group rather than individually done with each puppy, helping you save time when entering the same information to multiple puppies in the same litter.
Before being able to enter these batch entries for a litter, you must first create the batch lists. You only have to create the lists once and then they are there for you to use moving forward.
To create a batch list for entering Litter Procedure Batch Entry, follow these steps.
Step 1. Select [Admin] on the main menu, then [Manage Our Lists] from the drop-down menu, then [Litter Care Items add/edit] from the next drop-down menu.
 OR you can select [Litter Care Items Add/Edit] from the home page quick links.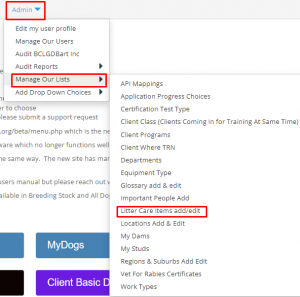 OR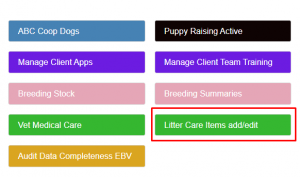 Step 2. Select [Add new] button to view a larger pop-up window OR click on the [Inline Add] button to enter the fields in a row line below the [Add new] and [Inline Add] buttons.

Step 3. In either option, you will now create the new batch. This is just the first step, adding a title to the batch, and which department is responsible. You will add the procedures you want included later on in the steps.
3.a. Enter a [Litter Care Description] (i.e., 8-week Vet exam & Vaccines, be sure   to enter a description that will distinguish what is in the batch compared to other batches. For i.e., entering a description 'vaccines', or 'exam' could be confusing if it is an 8-week, a 12-week, or 16-week vaccine or exam appointment that have different batch entries.)
3.b. Enter [Which Department Does It]. If you are entering these for the first time, you will need to select [Add new] in blue under the field and enter the department name and id. It will then appear in the drop-down menu.
3.c. You can also choose if you wish to allow for duplicate entries on the same day by checking the box [Allow Dup Same Day].
3.d. Click [Save].
[Add new]
OR
[Inline Add]

Step 4. The batch entry you entered will now appear in the Litter Care Items add/edit page.
On the line of the batch you entered, click on [Select Which Care Is Included] – in blue printing.

Step 5. Click on the [Add new] button.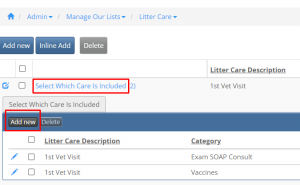 Step 6. Next, enter the required fields
6.a. [Category] from the drop-down menu
6.b. [What Done] from the drop-down menu (based on what category was chosen).
6.c. Not a required field – [Notes], You can also add additional details if needed here.
6.d. Not a required field – [Number of Days Due Again]. Enter when the procedure will be due again. This will generate a reminder if a due date is entered.
6.e. [Click Save].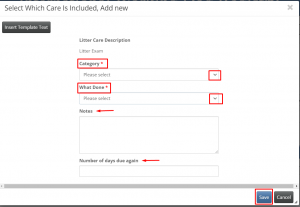 Step 7. This section also allows for creating a [Insert Template Text]. Please see specific article on this in the admin section of the manual / coming soon.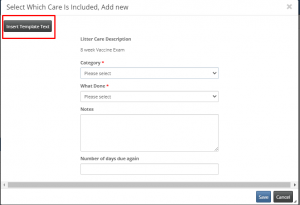 Step 8. With each procedure entered, the item will appear creating a list under the

8.a. With each item added a number will appear next to [Select Which Care is Included]. This number in brackets will tell you how many procedures are in the batch.

Step 9. From here you can edit or remove any item in the list if it needs updating.
9.a. To delete an item – click the box to the left of the item, this will activate the [Delete] button. Select [Delete]. Confirm you wish to delete by clicking [Ok]
9.b. To edit an item from the list, click the [edit] pencil icon to the left of the item you wish to edit. Make your edits and then be sure to click [Save] when finished.

Step 10. Your batch is now ready to be implemented in [Litter Procedure Batch Entry]. See how to enter a Litter Procedure Batch Entry]