2018 IWDBA Brisbane Breeders Workshop
September 20, 2018 @ 2:00 pm

-

September 22, 2018 @ 3:00 pm

$528.59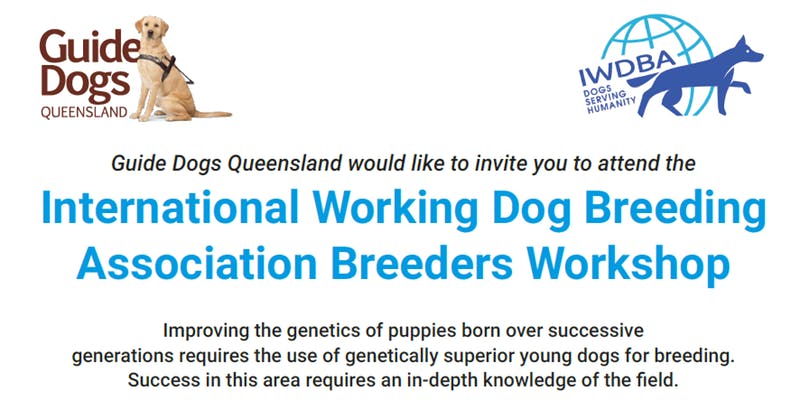 Guide Dogs Queensland would like to invite you to attend the International Working Dog Breeding Association Breeders Workshop.
Improving the genetics of puppies born over successive generations requires the use of genetically superior young dogs for breeding. Success in this area requires an in-depth knowledge of the field.
We are still finalising the program and confirming all the speakers, however, full details including workshop schedule and speakers details will appear shortly on our website https://www.guidedogsqld.com.au/event/iwdbabw
We will hear about the essential practical steps for any size breeding program to genetically improve your dogs.
You will learn about:
• Estimated Breeding Values – how they work, what data is needed and how to use them to select breeders
• How to use genetic selection to improve hip and elbow quality, skin allergies and otitis, thunderstorm fear and other traits
• Scoring aspects of behaviour using the Behaviour Checklist (BCL), the genetics of behaviour and how to use the data to improve your dogs
• Using the International Working Dog Registry (IWDR) to identify which dogs have the best genes, manage your data and provide opportunities for collaboration
Please note, that all associated flight and accommodation costs will need to be covered at your own cost.
Guide Dogs Queensland has arranged a discount code for accommodation booked at the Eatons Hill Hotel.
To utilise this discount follow the below steps:
• Go to www.eatonshillhotel.com.au
• Select 'Book Accommodation' and enter the dates you wish to book
• There will be a box that asks for a code, click the 'Add Code' drop box and select 'Rate Access/Corporate Rate Code'
• Enter the code 'GDA' and this will show your discounted rate which includes breakfast.
This code is valid for nights of the 20 – 21 September 2018.
Be quick! There are limited spots available for the discounted accommodation.